• notebooks • Profile • sketchbooks • writing
Chantel Vereen is a Senior Professional Writing Major at York College of Pennsylvania. She is involved with almost every campus group or activity imaginable, and can be found writing on paper all the time—from lists, to short blurbs and quotes, and long, drawn-out stories. We wanted to talk to her about her story, and how using analog tools helps her writing processes.
---
• events • signings • sketchbooks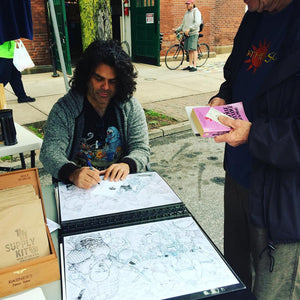 On September 24th from 1pm­-3pm, Mike Hawthorne, lead artist for Marvel's Deadpool series, will be signing for his new line of sketchbooks at the Art Store located on 29E King St, in Lancaster, PA. Don't forget to snag your very own, limited edition, two pack as part of our new "Working Artist" collection, featuring Hawthorne's original artwork on each cover for only $14. With the sale of each set, we'll donate a sketchbook to kids in underserved areas. Come join the SSC crew and check out Hawthorne's incredible artwork!
---
• notebooks • reviews • sketchbooks
(Image courtesy of Ana Reinert - the Well-Appointed Desk)